As we enter spring and summer, students are looking for jobs in this uncertain period of COVID. As if job hunting wasn't hard enough, COVID makes it even trickier. We wanted to share some career-related posts from last years, like this one, that would be helpful to students who are trying to find work during this uncertain period.
We interviewed Reverend Emily Gordon, a minister of the United Church of Canada here in Toronto, about vocations. A vocation is defined as a strong feeling of suitability for a certain occupation. People who talk about being called to do something or that they couldn't imagine doing anything else are likely pursuing a vocation. One profession that requires individuals to feel called to it before they can even get an entry level position is ministry. This is an area of work that is often not discussed by career counselors because of its status as a vocation, but for individuals who seek meaning, purpose, and a connection to something beyond themselves this may be the ideal path.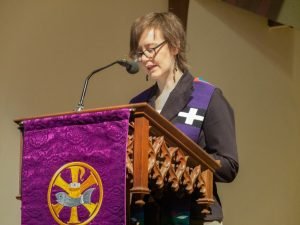 Emily did not start out her education knowing that she would one day become a minister, but her education has helped her in ministry. Emily completed her Bachelor of Arts (Honors) in English and Classics at Mount Allison University, followed by a Masters of English in Print Culture from Simon Fraser University. After a couple years of exploration and reflection, she felt the call to the Ministry and enrolled in a Masters of Divinity at Emmanuel College, becoming an ordained Minister in 2015. Her original love of reading and writing is now expressed in reflecting on Biblical and other spiritual texts and writing prayers and sermons for church services and materials. 
_
Can you tell us a little bit more about your journey to realizing that you felt called to become a minister?
For me, vocation is a calling. It is a voice that's calling you toward something – certain work or a certain purpose. In order to become a minister, part of the process that denomination asks you to take part in is being clear that this is a CALLING, rather than just an idea of something that you could do off a list of many things. It's a fairly significant commitment that you make, and most ministers that you talk to will say that wasn't an easy decision. You don't just sort of fall into this.
So, originally I thought that I was going to be a professor and go into academia. I did an Honors degree and Master's degree, and I was expecting to complete a PhD in English Literature. However, I began to realize that I was not feeling satisfied with the idea of the work that I'd be doing for the rest of my life. As much as I enjoyed reading and writing my whole life, it wasn't the only thing that I wanted to do. I felt that I wanted something more meaningful. I wanted to find a way to make an impact on people's lives.
Most people who go into ministry have a call story. My call story is fairly direct. When I realized that I wasn't going to continue in academia, I spend a lot of time thinking about what can I do. And one day, when I was asking this question, I felt that I heard a voice, not an actual literal voice, but a fully formed sentence that rose up from within me. For me, I understood that as God speaking to me because it felt both like a completely new idea of going into ministry, but also something that felt deeply familiar and deeply right. I spent some time in very careful reflection to make sure this wasn't just a passing idea, but something that I was called to do. I spent some time discerning and traveling and working in a church. Then, I began the discernment process in the United Church, which consists of going before a discernment committee to ask and answer a bunch of different questions. Then, I went to back to school to study theology, and eventually was ordained a minister in 2015.
Do you have any advice for students on how to plan for schoolwork at home during the pandemic?
Back when I was a student, I used a technique called Parking Lots. I first started using this technique when I was writing essays. The parking lot is the place where you put any ideas you have that are unsure where they fit into the essay yet. Or, if you wrote something and realized it did not belong where you put it, you could copy and paste that whole paragraph or set of sentences into the parking lot. Similar to the actual parking lots, it gives you a place to store things in case you need them again. If you figure out where it belongs eventually, the work is not lost, so you do not have to spend time worrying about it or thinking about it.
The parking lot approach can also be applied to the things going on in our lives too. On days when I am not working, one of the strategies I sometimes use depending on the workload I have, is starting a parking lot. This is usually just a page in my planner or just a scrap of paper, and then anything that pops up in my mind goes onto that. It can be, for instance, follow up with Lisa, or finish writing that prayer for Sunday. Once I've got those things written down, I know I will not forget them. This helps me to clear my mind and focus on the present, so that I can enjoy my days off fully. In addition, as soon as I am working again, I'll be able to just look at that list and add it to the to-do list for the day.
For students who are religious, or perhaps spiritual, what would you say is something that would be beneficial to their daily spiritual practices?
I think often times we have a very narrow idea of what can be a spiritual practice. It might be meditation or prayer or reading scripture, but we sometimes miss all of the other things that can be spiritual practices. For instance, one of the things that is a good spiritual practice for me personally is going for a walk. The opportunity to move, be outside, see the world, not talk to anyone, and have space to reflect on what's happening around or inside of me really helps me to stay grounded.
Intentional breathing is another option. Intentional breathing does not have to be as long as meditation. For people who may not find many meditations meaningful, they might appreciate doing a few minutes, or even seconds of intentional breathing. Intentional breathing can be something as simple as breathing in for five counts, then pause for three counts, and the breath out for seven counts. If you repeat that three or four times throughout the day or any other time when things happening just start to feel a bit too much, it can help you to recenter. What it does is it grounds you into where you are. It brings air, and oxygen into your body and nourishes you, so that you can better cope with the stresses around you.
Recommended Books and Resources
Learning to Walk in the Dark by Barbara Brown Taylor
Meeting Jesus Again for the First Time: The Historical Jesus & the Heart of Contemporary Faith by Marcus J. Borg
Speaking Christian: Why Christian Words Have Lost Their Meaning and Power―And How They Can Be Restored by Marcus J. Borg
The Cloister Walk by Kathleen Norris
Thank you, Emily, for sharing the excellent advice with us and our readers! 
_
_
Missed the podcast? Listen here:
_
_
For more advice about writing, check out our weekly podcast or subscribe to our monthly newsletter.
_
To get more help with your assignments, book a 20 minute discovery session with us and start your journey to reaching your full potential on the page, and in life.
---
Both the written, visual, audio, and audiovisual content of this post has been created by and is the intellectual property of Lisa Pfau and PFAU Academic Writing. Please do not replicate any of the above content without our consent. However, please do feel free to share this post and its authorship widely.