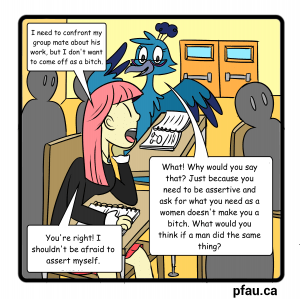 We interview Alexandra Kutilin, a full-time MBA student at Simon Fraser University's Beedie School of Business, about being a strong woman and speaking up for what you want and need. This week's episode is for all the strong women out there, who struggle with balancing their tactical professional self and caring compassionate self. I know this is an internal conflict that I deal with regularly as an entrepreneur in a care-giving and creative sector. How can I highlight my expertise, intelligence, and strength without losing the softer side of myself? This struggle is particularly evident in negotiations, where we are required to bargain for something we want, such as a better grade, performance from a group mate, raise from our boss, or new opportunity. Women are typically socialized to step back, give in, and avoid conflict. So, how do you harness your inner shark without losing yourself?
HIGHLIGHTS
Why more women should consider business and pursuing an MBA
How are things different for women in business
Advice for female students struggling to find their inner shark
Negotiation tips and tricks
_
_
To get more help with academic writing, application coaching, or professional development, book a 20 minute discovery call with us and start your journey to reaching your full potential on the page, and in life.
---
All the written, visual, audio, and audiovisual content of this post has been created by and is the intellectual property of Lisa Pfau and PFAU Academic Writing. Please do not replicate any of the above content without our consent. However, please do feel free to share this post and its authorship widely.